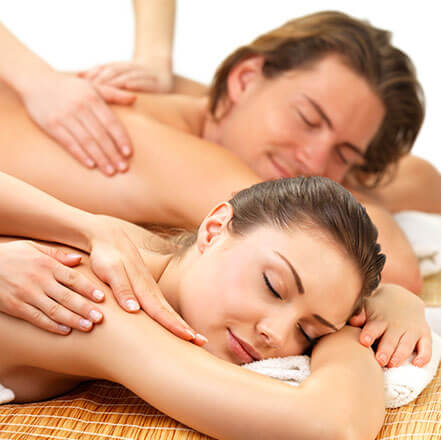 Wellness Massage
Our qualified esthetic staff will provide a gentle but firm massage using moisturizing massage oil and essential oils leaving you feeling relaxed and tension free. This service includes a medium-hard pressure massage of your back, neck and shoulders, the back of your legs, your hands and your arms and will finish with a relaxing scalp massage.
60 minutes session – $93.00
Aroma-Lymphatic Drainage Massage
A manual Aroma-Lymphatic Drainage Massage is a gentle, light-pressure massage that our qualified esthetic therapist performs to stimulate the lymphatic system. The Lymphatic System consists of lymphatic fluid, lymph nodes and lymph capillaries which carry excess water, proteins and waste from the connective tissues back to the venous blood stream where it is cleansed and eliminated. This massage will assist the movement of your lymph fluid to be properly processed for toxin elimination. Coupled with essential oils for aroma therapy, this service will leave your body and mind feeling refreshed and relaxed.
60 minutes session – $110.00
Hot Stone Massage
This massage is performed by our qualified esthetic therapist using smooth black basalt heated volcanic stones either massaged over or placed upon specific areas of the body with essential oils to induce tension relief deeper than a traditional massage. This Heat Therapy results in the expansion and dilation of the blood vessels, increasing metabolism as well as more fully relaxing the muscle tissue.
60 minutes session – $110.00
Therapeutic Swedish Massage
Our Registered Massage Therapist (RMT*) will offer a deep tissue massage to your desired depth and pressure customized to specific concerns to treat soft tissue injuries with the healing benefits of muscle, pain and tension relief.
*Not Currently Available*
60 minutes session – $120.00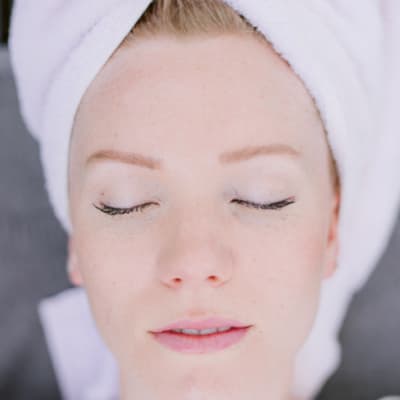 Our facials feature 100% Canadian Laboratoire Dr. Renaud products that are created, developed and manufactured at Cité Biotech in Laval, Québec.
Our exceptional collection of skincare products and protocols combine natural ingredients with advanced exclusive and patented dermatological research and technologies to effectively manage all skin conditions from the first signs of aging to the most particular concerns of mature skin. In addition, Laboratoire Dr. Renaud products are suitable for even the most sensitive skin.

Flash Facials – 45 minutes session
Customized Flash Facial
Enjoy a Laboratoire Dr. Renaud deep cleansing facial where your qualified esthetician will use a hot moistened towel after each step through a combination of cleansing, exfoliation, toner, then sit back and enjoy a destressing scalp massage while the deep nourishing mask does its magic. Complete your treatment with a serum, eye cream and facial pressure point massage and a replenishing moisturizer leaving you with a glowing and nourished complexion.
$93.00
Glycolac Plus Treatment
With the use of Alpha-Hydroxy Acids, this treatment is useful in refining thick, textured skin and reducing the appearance of the lines and wrinkles. This AHA treatment will help reduce rough, dull, dry and uneven skin. During this session we start with cleansing, toning, and exfoliating your skin, and then proceed with the 3 phases of the Glycolac Plus Treatment which include steps to refine, hydrate, and revive your skins natural, healthy state. We will finish with the perfect serum and moisturizer for your specific skin needs.
$105.00
Customized Fundamental Facials – Up to 75 minutes session
If you are in need of a completely personalized facial treatment adapted to your individual skin needs, you need to try our fundamental facial. In addition to the steps defined in the Customized Flash-Facial, we will add a personalized Dr. Renaud Phyto-effervescent for your specific skin concern to activate microcirculation and as a result will optimize product absorption and assist in opening your pores in preparation for extractions. You will receive a much-deserved de-stressing hand and arm massage during this addition, and to further melt the stress away we will perform a relaxing scalp massage during the mask process. Leave here feeling refreshed and invigorated with radiant, healthy skin.
$110.00
Optimal Facials– Up to 75 minutes session
HydraScience Treatment
If you're looking for that fresh, youthful glow and crave ultimate luxurious skin, this facial won't disappoint. Hydrating our skin is an essential daily step to maintain its beauty and healthful glow. This treatment is perfect for anyone with dehydrated skin, including oily and sensitive skin! This facial uses optimal products and carefully crafted steps to ensure you come out looking fresh, rejuvenated, and vibrant!
$145.00
Radiance White Brightening Face & Hand Treatment
Everyone knows that you can always tell a person's age by looking at their hands. Well, that might not work anymore after this treatment. With Laser C™ Complex, the Radiance White Brightening Treatment will reduce brown spots and dull, uneven skin while also brightening your complexion on both your face and your hands. Using optimized Vitamin C, this treatment evens out the complexion, lightens sun damaged spots, and also reduces hyperpigmentation and fine lines.
$145.00
Retinol Activ 0.5 Anti-Ageing Treatment
In addition to a deep cleanse, this facial treatment uses optimal products by combining the highest permitted concentrations of pure retinol and salicylic acid with highly effective cosmetic ingredients such as AHA, resveratrol, ceramides and antioxidants to help correct the onset signs of ageing. These products will help with premature ageing, skin sagging, and loss of firmness, and can be used on even the most sensitive skin types. After this facial, you are sure to leave feeling rejuvenated with a healthy, youthful glow.
$145.00
Pure Kronoxyl-9 Complete Youth Treatment
Without pain, trauma or side effects, Pure is a revolutionary cosmetic alternative to Botox® injections and other invasive rejuvenating procedures used in cosmetic plastic surgery. While correcting superficial wrinkles, deep wrinkles and expression lines, this facial will help improve your skin's texture, elasticity and radiance, and prevents biological ageing.
$145.00
Facial Add-Ons
*ask us about adding one or more of our facial add-ons to receive the ultimate relaxing and luxurious experience*
All-Natural Lip Treatment
Dry Lips? Give your lips some luxury care and attention by adding our NEW all natural lip treatment to any of our facials. Using products from Dr. Paw Paw, who has sustainability at its heart, all products are vegan, created with sustainable and natural ingredients and housed in eco-conscious packaging.
*Dr. Paw Paw products also available at our spa for purchase and at-home use*
$20.00
Manual Facial Lymphatic Drainage
Does your face and neck feel congested, puffy, or tense? Adding our NEW Manual Facial Lymphatic Drainage to your next facial may just be what you need! Your qualified esthetician will perform a light but highly effective massage to your face and neck in the direction of lymphatic flow to gently stimulate the lymph vessels below your skin. This will result in an increase of your body's lymph flow volume by as much as 20x, vastly increasing the system's ability to remove toxins and infectious materials, and ultimately lead to more energy, healthier skin, and a more contoured facial/neck structure.
$30.00
SensiVital Professional Face Mask
With our fast-changing seasons and extreme cold/hot weather, sometimes our skin needs a little extra care. If your find that your skin is sensitive, painful, fragile, and needs to be soothed, this mask will be a great addition to your customized facial. This mask is not recommended for oily or acne prone skin.
$45.00
Beautifying Eye Care Treatment
The Beautifying Eye Care treatment is a perfect option if you need additional care around your eye contour. This treatment consists of three phases, especially created for the care of the eye contour; the most delicate and active area of the face. This addition will help to prevent skin ageing signs by reducing the appearance of fine-lines and wrinkles, diminishing dark circles and bags under the eyes, while also providing deep hydration around your eye contour. This is a must-have addition to any of our facials.
$33.00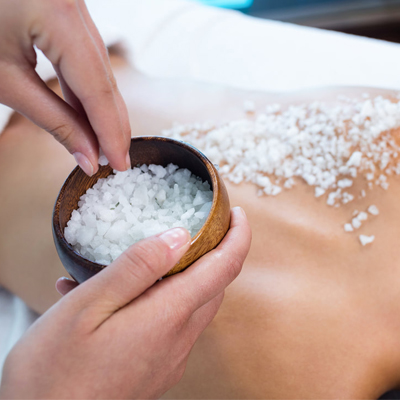 Sugar Scrub
As a natural source of glycolic acid (an AHA), sugar breaks down layers of dead skin and smooths the skin's surface. In addition, this service will help with dry skin, keratosis pilaris (the small, textured bumps on your upper arms and thighs), while also assisting in lymphatic drainage. We will start this service with a sugar exfoliation scrub done on your back, arms, legs, abdomen, and décolleté, and cover each area with warm towels for exfoliant removal. We will finish this service with the application of a rich moisturizing cream applied through a gentle, short massage, and you will be sure to walk away feeling as good as your skin looks.
Up to 60 minutes – $100.00
Detoxifying Body Wrap
We will start your Body Wrap service with a detoxifying hot oil sugar scrub and then proceed with the removal using warm, relaxing towels. Then have your body smothered with the gentle application of natural mud enriched with a blend of 3 algae and natural, therapeutic extracts and be wrapped up in warmth just in time to enjoy a relaxing feet and scalp massage as the ingredients do their magic. This service will conclude with the application of a vitamin E enriched moisturizing cream leaving your skin detoxified, firm and nourished. Our natural thermal active detoxifying sea algae clay is enriched with algae & herbal extracts that activate the release of skin impurities and improve cellulite, water-retention, localized fat deposits, loss of tone, along with dry, aged and impure skin. Go on, exhale your stress away, you deserve it.
Up to 75 minutes – $140.00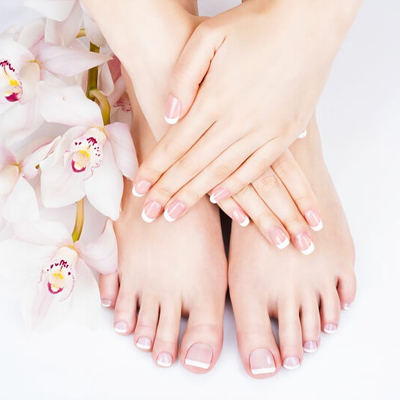 *Note to all clients: There may be an extra cost per every additional 10
minutes if your service takes longer than the regular booking time when
due to additional steps required for your specific needs.
Spa Manicure
We will start your manicure with a nail trim and file to suit your favourite nail shape. Next, we will prep your cuticles with a natural nourishing hand soak and perform cuticle care followed by a moisturizing hand massage. Your service will finish with the application of the perfect nail polish colour of your choice.
Spa Manicure with polish – 60 minutes session – $65.00
OR
Spa Manicure without polish – 50 minutes session – $55.00
---
Luxury Manicure
Enjoy all the benefits of the spa manicure, with the added luxury of a gentle but effective hand exfoliation. Enrich your treatment by also receiving your choice between hot paraffin wax or a deeply moisturizing mask wrapped in a warm towel. This service will end with the application of the perfect nail polish colour of your choice (if applicable).
Luxury Manicure with polish – 75 minutes session – $82.00
OR
Luxury Manicure without polish – 60 minutes session – $72.00
---
Polish Refresher
This service is designed for those who need a quick and simple refresher. We will cut and file your nails and finish with a polish colour of your choice. This service can be booked for either your feet or your hands.
20 minutes session – $27.00
---
ADD-ON'S
Gel Polish Application (only for manicures) – $12.00
Gel Polish Removal – $17.00
French Polish Application – $17.00
Paraffin Wax – $12.00
Nail Art – $6.00 Per Nail
Spa Pedicure
Relax in our "Pipeless luxury spa chairs" eliminating cross contamination and risk of bacteria or fungus, with the control of shiatsu massage at your fingertips while soaking in a beautiful glass bowl of invigorating warm nourishing water. Let us rejuvenate your hard-working feet by performing nail and cuticle care, followed by a callus removal using our professional grade foot paddle (or add a Full-Detail Callus Removal where your esthetician will renew your feet using our 2-step professional electric callus buffer, also known as the "Fabeaulous Feet Machine," for an additional $15.00). Let us pamper you even more by enjoying a 3-step rich moisturizing lower leg and foot treatment using oil, deep moisturizing foam, and lotion with a light scent of your choosing. Finally, we will finish with the application of the perfect nail polish colour of your choice (if applicable).

Spa Pedicure with polish – 60 minutes session – $77.00
OR
Spa Pedicure without polish – 50 minutes session – $67.00

---
Luxury Pedicure
Enjoy all the benefits of the spa pedicure, with the added luxury of a 2-step professional electric callus buffer, also known as the "Fabeaulous Feet Machine" (at no extra cost ), along with a gentle exfoliating scrub followed by your choice between hot paraffin wax or a deep moisturizing mask wrapped in a warm towel. We will finish the service with your favourite nail polish colour application (if applicable).

Luxury Pedicure with polish – 90 minutes session – $93.00
OR
Luxury Pedicure without polish – 75 minutes session – $83.00

---
Full-Detail Callus Removal
Sometimes our feet need a little extra love and attention, and we can make this happen with this extra detailed callus removal service. We will spend the extra time that your hard-working feet need to remove the extra callus using our 2-step professional electric callus buffer, also known as the Fabeaulous Feet Pedicure System. Add this to your spa pedicure or book as an individual service, and we guarantee that the result will be smooth, revived, and long-lasting.
*Please note we do not use credo blades at our establishment*

15-minute Spa Pedicure Add-On – $15.00
Individual Service (not booked with a spa pedicure) – $35.00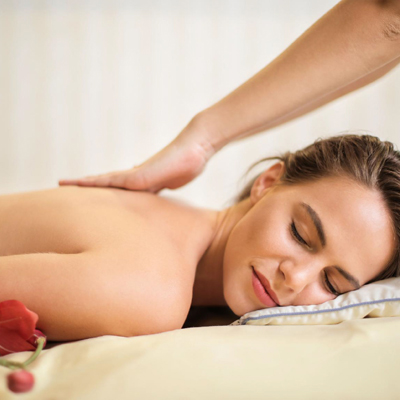 Waxing
Eyebrow – $20.00

*Add our NEW Eyebrow Mapping Service to your Brow Wax! *

Upper Lip – $17.00
Eyebrow and Upper Lip – $30.00
Chin – $17.00
Side of Face – $17.00
Eyebrow, Upper Lip, & Chin Combo – $45.00
Full Face (eyebrows, upper lip, chin, neck, cheeks) – $60.00
Underarms – $20.00
Full Arms – $45.00
Half Arms – $30.00
Half Legs – $44.00
Full Legs -$66.00
Full Back (includes shoulders and upper arms) – $66.00
Half Back or Chest – $44.00
Bikini – $33.00
Brazilian – $75.00
Tinting
Eyelash Tint – $27.00
Eyebrow Tint – $20.00
Eyelash & Eyebrow Tint Duo – $45.00
Combination
Eyebrow Tint & Wax and Eyelash Tint Combo – $55.00
Eyebrow Tint & Wax Combo – $35.00
Eyebrow Mapping: Charting Your Path to Brow Paradise: $20.00
+ additional charge for Eyebrow Waxing
Discover the hidden beauty of your brows with our Eyebrow Mapping service, where we will guide you to the heavenly path to brow paradise! Eyebrow mapping is a shaping technique that uses the golden ratio for facial proportions to help achieve symmetry and sculpt the most flattering shape for your brows. Adding this service to your next eyebrow wax appointment will help achieve brow symmetry, improve ability to sculpt your vision for your ideal brow shape, and will ultimately guarantee that you and your brow artist are on the same page. Please note when booking: Due to the detailed artistry and timing it takes to map your brows to paradise, Eyebrow Mapping is booked in addition to the price of your Eyebrow Wax; but trust us… it is worth it and you deserve it!
Eyelash Lift and Tint: $75.00
A Lash Lift is an all-natural, semi-permanent procedure that gives you the appearance of fuller, thicker eyelashes without the use of any leave-on chemicals or extensions. The natural lashes are boosted from the root, giving them a lifted, lengthened appearance. Done in combination with the Eyelash Tint, you will wake up with thicker, curly, full colour lashes every single day! This treatment lasts between 6-8 weeks, depending on the current state of your hair growth cycle.
Eyebrow Lamination & Shaping: $100.00
Wake up with perfect, thick, tame eyebrows daily with this new trendy service. Eyebrow lamination is essentially an eyebrow lift using perming techniques to achieve straight brow hairs in the exact direction you wish. This process will restructure your eyebrow hair bonds resulting in a more full, feathery appearance, lasting four to six weeks. To finish this service, we will precisely shape and trim, leaving you with your dream eyebrows.
Eyebrow Lamination & Shaping + Tint: $110.00
Add a tint to your brow lamination and shaping service to achieve the colour and fullness you deserve.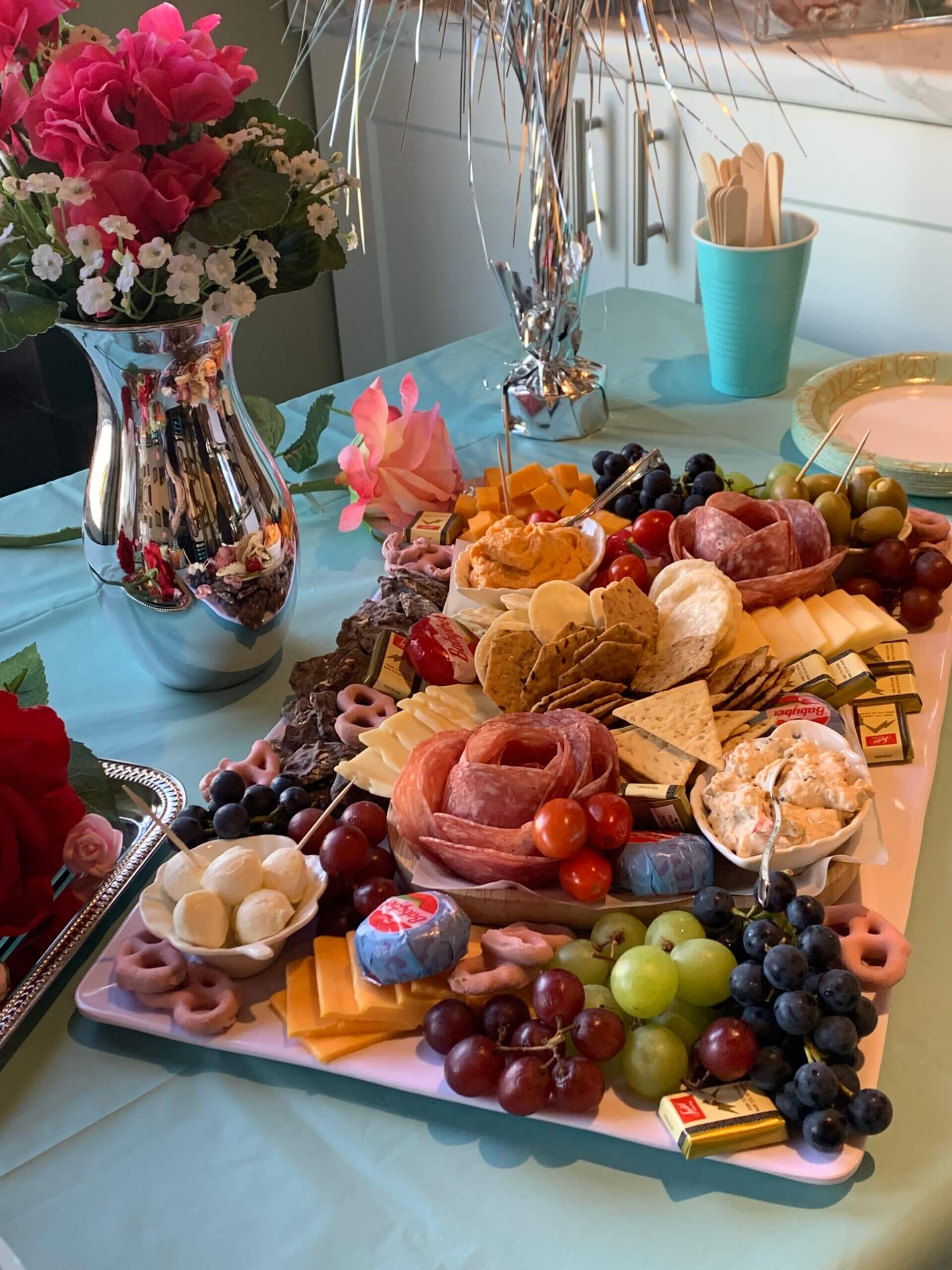 Enjoy a beautiful arrangement of cured meats, cheese, crackers, olives, jellies and spreads.
For 1 person – $28.00
For 2-3 people – $61.00
For 3-5 people – $75.00
Mini Nordic Spa Packages
*Open from 10:30am-8:00pm*
Mini Nordic Spa
$42.00 per person for up to 1.5 hours
Mini Nordic Spa Day Pass
$65.00 per person
Mini Nordic Spa Weekend Pass (Saturday & Sunday)
$90.00 per person